once at christmas day i prayed to see a scary tv show and afterwards i saw the little drummer boy it was some sort of stop motion animated short movie that was about a story from the bible it only played on live tv once and i never saw it again until i searched it on youtube.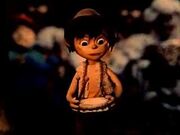 back in the day there was this one scene that scared me where the drummer boy was in a donjeon prison cell and he seemed to be crying there seemed to be flames in the foreground as he was crying my memory is very vague about that one particular scene 
maybe there was screaming while this played in the end the boy was freed by his father or whoever the adult acompanieng him was. but this entire seen might have been false memory as in the recorded youtube versions there was no such scene in the entire movie. 
the fact that it never played on tv again is odd and suspiciouse maybe it scared others and it was completely taken off air.
Community content is available under
CC-BY-SA
unless otherwise noted.