Ethan Nestor found a tutorial on YouTube about how to break open melons. It seemed possible as shown in the videos.
However, Ethan did not practice on ways to break melons, but he was determined and trusted in himself.
So he installed his camera and called his cameraman and he came earlier then expected. All of a sudden he had souvenirs of Unus Annus flooding back to him, especially the one where he went insane and became the melon man.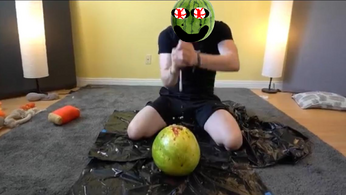 But he thought that it would not happen again as he had matured after Unus Annus, and so he began the introduction.
What's up, my cranky crew! And welcome to yet another video. Today I will break open this melon to celebrate the end of Unus Annus so let's get to it!
Ethan tried his hardest to break open the melon with his own hands. He began to try and pull it out.
He grunted and tried again. Now he grunted even louder and took longer. However he could not break it.
He attempted to do it 25 times; but all his attempts failed.
At the last attempt he was exhausted and and was frustrated. He had some kind of death stare.
He began to swear at the melon, punch the melon, and kick it and that was when something clicked in his mind.
THE MELONS HAVE NO CHANCE AGAINST THE MELON MAN
Ethan picked it up and threw it on a wall but it still didn't break.
He then stabs the melon but only the top of it.
I WILL KILL ALL MELONS AS I AM THE MELON MAN
He screamed and threw the melon on walls and the floor. He then walked to his shower and turned it on.
YOU WON'T SURVIVE YOU'RE CRACKING DOOM AS NO ONE CAN ESCAPE THE MELON MAN ALIVE
THE MELON MAKES THE MAN!
He rammed the melon on the shower floor while swearing and the bottom of it cracked.
YOU SHOULDN'T HAVE HAD RESISTED YOU M***** F*****!
He cut eye holes in the melon with a mouth section and he put it on his head.
YES, I HAVE VANQUISHED ANOTHER VICTIM! NOW I WILL-
Someone outside looked at Ethan concerned.
Ethan threw a melon at the window and it broke. The melon hit the person in the face and he was unconscious on the ground.
NO ONE CAN STAND IN MY WAY!
The cameraman spoke and he seemed afraid.
Nope, I'm not dealing with this!
And the video ended there.
Community content is available under
CC-BY-SA
unless otherwise noted.