The episodes discovery
Ive always been a fan of spongebob and my kids kevin and sarah are starting to get interested.
And i should have payed closer attyention to what they were watching online.
at first what they were searching seemed light hearted and entertaining so thats why i stopped looking at theyre reasearch.
One night my son Kevin came to me and told me
Dad have you seen the Mr Krabs Money Madness episode?
I was confused as this isnt an officiel episode and replied with
Where did you see this episode, its not official?
Well i found a Spongebob channel on youtube and it had the episode
Right when he said that i ran to the computer and it was on the spongebob channel the description described that this was the officiel spongebob channel from nickelodeon.
but i saw threw theyre lie and i was infuriated that this managed to trick my son, so i reported it to youtube and then checked the videos.
and there it was, the episode he talked about and two others, one was called squidwards last stand and the last one was called i was fired from nickeledeon studios. I decided to view the last one it was one of the crew that voice acted in the squidwards last stand episode his name was Zack Luksenverg he seemed sad and was siting infront of a low quality web cam and he said.
So i worked at nikelodeon to help out on a project called squidwards last stand the director and crew seemed trusworthy and nice however they were hiding the scripts and storyboards from me so i had no idea what it was about, some otheres forcefully reviewed the footage and banned all of the ones that were involved with it.
The director gave up and ended it all so i decided to upload it on youtube as a comemoration and decided to upload my own animation as a prequel  i dont care if they arent monetized, im lost and i have no idea what i should do next.
The video ended there i warned my son not to view this account until i was done reviewing it.
 viewing day
a few days later i decided to check out the infamous episode it started like every other episode and the title screen showed mr krabs holding a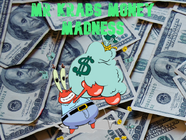 money bag with a bunch of money in the background nothing seemed out of the ordanary but this definitly wasn't canon to the show. 
the episode started at the crusty crab squidward was being enoyed by spongebob once again.
Spongebob kept rigning the bell waiting for squidward to serve the food but instead squidward entered the kitchen and started screaming at Spongebob.
Squidward: SPONGEBOB STOP RIGNING THE BELL!
Spongebob stopped rigning, he seemed concerned on the anger of squidward which normaly doesn't happen.
Spongebob: ok squidward il stop, you didn't need to scream!
Squidward dropped his diary which looked like a krabby patty next to the stove as he walked back to his post.
Spongebob found it and thought it looked uncooked so he picked it up with his spatula and placed it on the stove.