Mr. David and Scott Cawthon checked out another blueprint on a Florida location. This one looked like a castle and was medieval-themed. The same kind of animatronics would be able to roam around freely and interact with the guests.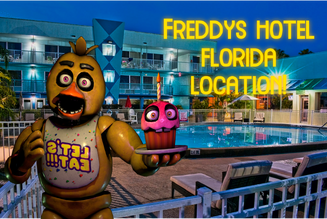 However these animatronics were planned to be made out of metal and they would run on advanced computer coding and mode chips.
The two searched for other employees to help out in the building of this version. They created many hiring posts and websites and luckily they got a technician, builders, a chef, some servants, two night guards and one cleaner.
They desired to keep their identity a secret to prevent unwanted drama. Mr. David decided to be the CEO of this hotel and watched the builders' teamwork and progress; they were incredibly fast and careful. The hotel was finished after 1 month.
However three builders thought they saw a shadowy figure staring at them and in some cases following them. Mr. David thought it was hallucinations due to heat so it was dismissed and forgotten.
Then everything was placed inside and the team met up in Mr. David's office without delay.
Mr. David
You guys did an incredible job at building this hotel and I will give you a raise!
Mr. David gave the builders 3000$ and they walked away to accept another job.
Later on the technician and other employees came in. The technician was Jack but no one recognised him as he changed his name and appearance; his new name was Fred.
Mr. David
Alright, everyone, now we need the animatronics and cameras to be made a fast as possible before this location opens next month!
Fred
Don't worry, boss, I got this
Fred created the cameras from scratch and recreated the animatronics. He finished them a day before the opening day.
But he was also witness to a strange sighting as he saw Shadow Bonnie standing still near the corner of a wall. He thought he heard whispers asking him to kill Jackson and avenge him. However Fred refused to listen and Shadow Bonnie pointed at him. Foxy turned on and tried to bite Fred but he was able to close its mouth shut and turn it off. Shadow Bonnie then walked through the wall and vanished.
Fred refused to tell others about his sighting as they might think he was insane.
The other employees were ready and the clients came running in, but Mr. David forgot to hire voice actors so Scott decided to record them and he did.
Everyone seemed happy and the kids were having fun with the animatronic characters; they sang and danced with them.
Mr. David patrolled the area and that was when he met the love of his life.
As he approached the backstage Amy was there and she looked beautiful; she was the girl you would instantly be in love with.
Mr. David opened the door and walked to her.
Mr. David
Um- I'm afraid that clients can not be in here.
Amy
Are you the CEO of the company?
Mr. David
Eh, yes, but-
Amy
May I get permission to visit this section?
She smiled at him and Mr. David started to feel the love going through him.
Mr. David
Sure, I'll give you a private tour!
They checked the prop room and actors for other shows. Then they both ate at their highest quality restaurant.
Amy
You've been so good to me and you've founded this whole place. You're a legend.
Mr. David
Well, it wasn't easy, but with these wonderful employees they made my father's dream come true!
Amy
We should meet up more often and maybe grow a bigger relationship.
Mr. David
Yes, that would be life-changing!
They met many times at each other's houses, restaurants, malls and more and they watched movies, ate and bought each other gifts. Then they bore children, 3 boys and 1 girl. Their names are Jeorge Davidson, Kevin Davidson, Alex Davidson and finally Ella Davidson.
Their children were given free access to the hotel. Some were angered by this and desired to also get free access but they were denied.
But accidents ruined their relationship as Jorge was crushed by the Freddy animatronic as it fell on him, Kevin died while falling down the stairs, Alex died from a deadly illness and finally Ella died from food poisoning.
Mr. David was devastated and wasn't able to accept the death of his children, so he closed down the hotel and moved his children's bodies into the animatronics to keep them alive forever.
Amy was devastated and they decided to both meet up at her house and talk.
Amy
David, have you seen our children?
Mr. David
Don't worry. they can't be far! I'll find them!
Amy knew that he was lying from his expression.
Amy
You're lying! Tell me the truth!
Mr. David
OK, fine... they died but I found a way to keep them alive by inserting them into the animatronics
Amy
WHAT!? YOU'RE A MONSTER! I THOUGHT YOU LOVED THEM!
Mr. David
I DO, THAT'S EXACTLY WHY I-
Amy
WHEN THEY DIED YOU SHOULD HAVE DUG A PROPER BURIAL! I'M DONE!
Amy and David broke up and this broke his heart. He was the most absent in the hotel which caused suspicion to others.
As the hotel was closed for the night, Mr. David remained inside with a flashlight and he sat in front of the stage. He was used to the darkness of the hotel and if something bad were to happen then the night guard would deal with it. Well, that's what he thought.
In the corner on the stage he saw a dark mist that resembled Shadow Bonnie with white glowing eyes and squared teeth. He seemed disappointed at David. He rubbed his eyes and it was gone. As he reflected and relaxed he said,
Mr. David
At least you will never leave me, my children...
Freddy was staring at Mr. David and David swore that he heard crying from the inside. He approached the animatronic and Freddy started running backstage, which freaked out Mr. David.
He backed away and Bonnie sneaked behind him and grabbed his arms. David turned his head and saw the Bonnie animatronic's human-like eyes peering through the fake plastic eyes. They were shaking and someone was in pain in the robot as David heard a broken and raspy voice that was once Jeorge's.
Bonnie
Daddy, why did you trap us within these characters? Let us out!
The animatronic opened its large mouth, showing a skull inside, and it screamed. David kicked the animatronics and ran out of the hotel in fear. He tumbled into a steep hill and lost consciousness.
The next morning he found himself in the camera room with Fred.
Fred
Are you okay, boss?
Mr. David
The animatronics are haunted! We must get-
Fred
Calm down, boss, everything will be okay! You most likely just had some kind of hallucination as nothing followed you outside.
Mr. David
You're right... I have to calm myself. Thank you for finding me and helping me.
Fred
No problem, boss.
Mr. David payed him extra that day and left to check on the newcomers. They were having fun with the animatronics and eating junk food as if nothing terrifying happened, but as the hotel once again closed the night guard was patrolling the area and he heard cries of help from the stage.
Freddy:
Take us out of these awful machines!
Bonnie:
Our father is a monster!
Chica:
Don't trust the CEO!
Foxy:
If only I could stab him!
The night guard wanted to leave at this moment, but he thought that if he did he wouldn't get payed enough, so he ran to the stage. The animatronics were standing on the stage looking at the night guard's every step.
Night guard:
WHAT IS WRONG WITH YOU HUNK OF JUNK MACHINES!?
The night guard kicked Bonnie and it lowered its head. Then it removed its head, showing a skull over an endoskeleton. The night guard screamed and went into his office. He hurried up and called the nearest police office, and Jackson and James were alerted.
James:
Freddy's hotel again!
Jackson:
It's a different location so it won't be the exact same crime, you incompetent-
James:
Don't talk to me like that, Jackson, or I am retiring!
Jackson:
Fine then, sheesh...
The two grabbed their revolvers and objects to solve the mystery.
The next day rumors started spreading on who stuffed someone in the Bonnie animatronic. Every staff member was blamed. The kids no longer trusted them and the parents kept their children far away from them.
Some children began to draw David has a purple man monstrosity with a large smile and purple eyes, and David was offended by these drawings as they looked nothing like him.
The clients were fewer and fewer as the months passed and finally the detectives came.
They arrived in the hotel to investigate the rumors and the place was once again closed down; only the employees remained.
A meeting took place with Mr. David.
Jackson 
Have you heard of the rumors and complaints, David?
David 
I did receive lots of complaints, but they were all from misinformation as the rumors are all false as there is no evidence to prove them!
James
Do you have good food here?
David 
Yes, of course, I'll make it all free for you guys!
James
THANKS, MAN!
Jackson 
James, come on, man... concentrate on the main-
James 
I'm not listening to you!
Jackson sighs.
Jackson
Okay, Mr. CEO, we will find out if these rumors are indeed true.
Jackson and James took out their black lights and checked the rooms; there was no blood or mucus anywhere and nothing of interest in any of the rooms.
David was stressed out and checked the cameras. They showed that the night guard saw the skull inside Bonnie and spread the rumors. This enraged David and he walked to the night guard's room.
David
THIS IS UNACCEPTABLE!
Night guard
What is?
David
YOU'RE THE ONE THAT SPREAD THE RUMOR! I SAW IT ON THE CAMERA FOOTAGE!
Night Guard
But I had to tell the truth to the masses, boss!
David
AND LOOK WHERE WE ARE NOW- STUCK WITH ANOTHER INVESTIGATION AND THE PAYMENT DECREASE FROM LACK OF COSTUMERS!
Night guard
I'm sorry, boss. I never thought it would go this far...
David
WELL IT'S TOO LATE NOW! YOU SHOULD HAVE KEPT YOUR MOUTH SHUT!
Night guard
Boss, you have to breathe in and out. We will find a way out of this, ok...
David
NO, I'VE HAD ENOUGH! YOU'RE FIRED FROM THIS ESTABLISHMENT!
The night guard was devastated about this and he left crying.
The detectives searched every room trying to desperately find clues. Then James arrived at the stage and bumped into the Bonnie animatronic. It fell and the head came off, exposing the skull.
James took a picture and called out for Jackson, but he was too far. Then Freddy grabbed his shoulder. He looked behind him and saw the metallic bear.
He was about to scream but Freddy covered his mouth.
Freddy 
David did it, please release us from this nightmare!
James said yes with his head and Freddy unblocked his mouth.
James
I think I know what to do! Follow me!
The animatronics followed him out of the stage.
Jackson watched the footage and found out that a file was recently deleted. He wasn't able to recover it unfortunately. The file was with the night guard discovering that there was someone inside Bonnie.
But he did recover another footage that was corrupted. It took place in the maintenance room. The screen was glitching in static and other quality errors. Shadow Bonnie was teleporting closer and closer to the camera and he seemed to become angrier as he approached. As his face covered the screen Shadow Bonnie's body became transparent and a skeleton showed inside. Then Shadow Bonnie screamed in rage and broke the camera with sharp claws.
Jackson was terrified by this footage and he never forgot it. He tried to save it to a DVD of some kind but the file was deleted before he could transfer it. He was confused and mortified but he managed to calm down.
James arrived with the animatronics.
James
I know who started all this, Jackson!
Jackson
Spit it out then?
James
David did it.
Jackson
Is there any proof to this?
James showed him the skull inside of Bonnie's head.
James
They told me the truth.
Jackson
WHAT, THESE THINGS ARE POSSESSED!?
James
Yes, and we must free them!
David joined the detectives.
David
So how is it go-
He stared in horror as he saw them with the animatronics; he then ran away.
Jackson
GET OVER HERE!
The two detectives ran after him with the animatronics trailing behind.
James
WHY DID YOU KILL THE KIDS!?
David
I DIDN'T KILL THE KIDS, I JUST INSERTED THEM IN THE ANIMATRONICS SO THAT THEY CAN BE WITH ME FOREVER!
Jackson
THAT'S STILL PRETTY MESSED UP, DAVID!
David
WHATEVER! YOU WON'T ARREST ME ALIVE!
David stopped with the gun next to his head. They were near the exit and everyone else stopped.
James
Wow there, you're about to take this too far, Dave!
Jackson
Yeah, man, chill!
David
ALL I WANTED TO DO WAS KEEP MY CHILDREN CLOSE BY AND FINISH MY FATHER'S DREAM AND YOU RUINED EVERYTHING!
Freddy
Father, they tried to help us! Please let go of the gun!
David
NO, I'VE HAD ENOUGH OF THIS LIFE I'M LIVING IN! I CAN-
James fell by accident and his gun fired. David dodged the bullet and shot James in the heart.
He laid on the ground, covering the bullet wound.
Jackson
James, nooooooooo!
James
Tell my parents and friends that I will always be there... and to the ones that are reading this, or listening to a narration, stop spying on us
James died.
Jackson shot David's gun off of his hand and he arrested David and handcuffed him.
Jackson
YOU KILLED MY BEST FRIEND, YOU ASSHOLE! YOU ARE A MONSTER!
David
HE SHOT ME FIRST, YOU IDIOT!
Jackson
IT WAS AN ACCIDENT FOR FREAK'S SAKES!
Freddy
Daddy, why did you murder someone...
David
I'm so sorry you all had to see this. I was under stress and fear. I hope James forgives me if he is still out there...
Jackson
James would not have wanted me to scream at you... I guess I was also stressed and angered. I apologise as well
Jackson dragged the animatronics outside and dug graves for them. David watched the entire thing take place.
Jackson removed the skeletons from the animatronics and threw them into the dig sites, and then he buried them.
Both Jackson and David prayed for them to find heaven.
Then they burned the animatronics and the employees left to different jobs. The hotel was bought by Disney and they changed the entirety of the hotel to a resort.
David got a sentence of 5 years in prison and all he could do was sleep and eat.
James got buried in a public cemetery afterwards.
Scott was shocked about the arrest of David and he checked the blueprints. They genuinely interested him, especially the Japan location.
TO BE CONTINUED
Community content is available under
CC-BY-SA
unless otherwise noted.